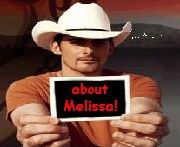 Everything You Never Wanted To Know About ME:
I was born in a place called Fraglie Rock....oh, wait that wasn't me.....
The truth is that I've lived in Cenla my entire life and I love it. I've been all over the world and Cenla is by far the coolest place to live. I've been in radio for almost 6 years now (I know I'm still a "rookie") and have had the pleasure of working with some really great people who have all taught me so much. I'm a fan of all different types of music but country is my first love. I saw Ernest Tubb and Barbara Mandrell in concert when I was little here in Alexandria (I have a really good memory...haha!) and my life changed. I knew I wanted to do something in country music but I didn't know what. The thought of being in radio never crossed my mind but one day I said I wonder what it'd be like and I've been in radio ever since.

The Best Thing About Working At KRRV:
Most people would think that being able to meet artist and hang out with them is the cool part but to be honest with you it's the fact that you get to help so many people in so many ways to me is the coolest. Like the St. Judes Radio-a-thon. We along with you guys help raise money for St. Judes and put a smile on a kid's face and in the big picture of life that's what really counts. I'd also have to say that the people I get to work with are some of the coolest people you will ever meet. Now don't get me wrong hanging with the artis is fun too (haha!). Oh, and the fact that I get to be around music all day is a total pluse.

Things You Might Not Know And Probably Don't Want Too:
I love classic TV shows like "The Beverly Hillbillies", "I Love Lucy" and "The Musters." I play the drums and love anything and everything that deal's with percussion stuff. I actually own one of Brad Paisley's drummers old drum set's. I'm a huge fan of Chely Wright, SheDAISY, Reba McEntire, Bonnie Raitt, Kelly Clarkson, and Barbara Mandrell. All of these woman have inspired me in someway. I secretly want to drive a NASCAR car around a track one day. I am really into sound and computers. So yeah I'm a sound geek and a computer nerd.

Favorite Quote By A Singer:
"it's nice to be remembered but always remeber to be nice" -Kassidy Osbourn (SheDAISY)

Favorite Movie: anything with Sandra Bullock in it and "LoneStar State Of Mind"

Personal Motto: "just show up.....because you never know what will happen"